Considering renovating or making home improvements? A cash-out refinance may be the perfect way to finance A RENOVATION. 
If you're considering renovating your home or completing several home improvement projects, doing a cash-out refinance on your home may be the right financing option for you. Especially now when your home may be at its peak value.
What is a Cash-Out Refi?
In a cash-out refi, you sell your previous mortgage for a new one with a higher loan amount. At closing, you receive the difference as cash in the bank. You can use the money for anything, but when you use it for home improvements, you'll actually increase the value of your home.
While your new loan may have a higher monthly payment, the net gain to your financial well-being could be major:
One Loan: your mortgage may be higher, but you won't have an additional loan (and additional interest) to pay.
Lower interest rates: Even in 2023, mortgage rates are lower than other loan types like HELOCs.
Tax benefits: Mortgage interest, unlike HELOCs, is deductible.
Lifetime Guarantee. When rates eventually drop, you can refi your Ark loan to lower your payments or loan term without paying new lenders' fees or appraisal.
Predictability: With a conventional loan, your monthly payment will not change.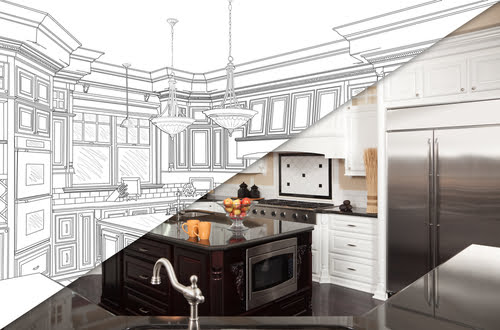 Renovations worth doing
The right renovations add value to your house and make it feel more like home. As a mortgage bank, we'd like to tell you to only do renovations that add home value. As people, we know there's personal value to doing renovations that make your house unique to you and your household's needs. We asked our appraisal department what are 3 types of renovations have the best return of investment:
Updating a kitchen, whether it be a gut remodel or just a small one (i.e.: installing a new sink, updating countertops, etc..) can major value- on average about 5% to the home value.
Finishing a basement or attic is a major project with major returns as this does add additional square footage and has an average value return of 6.6%.
Installing hardwood floors instead of carpets or linoleum (but not in your bathroom!). This can add around 3.4% of value to your home.
How to qualify
The qualifications for a cash-out refinance are the same as your original mortgage, except for one important factor- equity. Every borrower has a different situation, so talk to an Ark Mortgage Advisor to find out what you'll need. In general:
Your equity: A borrower can only refinance past 20% of the home value. So if you're still paying PMI, you probably cannot do a refinance.
Credit score: Borrowers need a 620 credit score or higher.
DTI: Debt-to-Income. A mortgage bank like us will look at your outstanding debts and income to determine if you can really afford the loan. The DTI ratio should be equal to or below 43%.
Ready to tear down some walls?
In the end of the day, only you know where you want your home renovations to go. Ark Mortgage is here to help you finance your home renovation goals.
Sign up for blog updates.