Homeowners may be surprised to learn how much equity they have built up, and with a cash-out refinance, they can access that wealth to fund a variety of expenses.
If you're a homeowner you may be surprised by how much money you're sitting on (or living in, to be exact). It's the money you've paid into your mortgage toward the principle, as opposed to interest. It's called "equity." The cool thing is, you can access that wealth through a cash-out refinance that lets you borrow against your equity.
It works like this: a lender (like Ark), buys your current home loan and then sets you up with a new mortgage for a higher amount based on the amount of cash you requested. That cash goes straight into your bank account and you can use it as you see fit. While no one will be monitoring how you use this money, it's prudent to use it for things that will improve your quality of life or financial stability in the long run. We have some suggestions — six smart ways to use your equity if you're considering a cash-out refinance:
1. Consolidate high-interest debt
With interest rates for credit cards averaging 20% or more, credit card debt can balloon fast, becoming unmanageable. If you are only able to make the minimum monthly payments, you could pay $ tens of thousands in interest and be saddled with debt for years.
Consolidating your high-interest-rate debt (credit cards) into low interest-rate mortgage could save you hundreds or even thousands a month. Additionally, the mortgage rate is fixed for the duration of the loan, whereas credit card interest rates tend to keep on climbing. Lastly, you will have a single monthly mortgage payment as opposed to multiple payments to many creditors.
Paying off your debt is the first step to repairing your credit score, which will make it easier (or even possible) to purchase or lease a car, get a business loan, or pursue continuing education with student loans.
2. Cover Unplanned Expenses
Your car breaks down, your company downsizes, or you suddenly find a deal on that Mickey Mantle card that will complete your '52 Yankees collection, or it turns out…surprise…it's twins! Life happens, and it brings with it unexpected expenses. Financial experts recommend having 3-6 months of living expenses saved as a nest egg. But the reality is three out of five Americans are living paycheck-to-paycheck.
That's where your home equity can save the day. You can use a cash-out refi to create that fund and be ready for life's surprises. If you're already in need, W2-borrowers typically close with Ark in 21 business days, so you could get that cash fast.
What's more, a cash-out refi can fund those changes that will make your house feel like home, and also a worthy investment. The right improvements can improve family time and decrease stress. In short, if your home has a lot more quirks than it used to, it may be time to consider renovations or home improvement.
3. Renovate or Repair your House
Responsible home ownership means maintaining the value of your home. Making sure major appliances and systems (i.e., heating, AC, etc.) are working properly will keep your home safe and compliant with local housing codes. It will also will help you sell your house for a higher price once you're ready, as a fixer-upper property lists on average 8% below market value. Be aware, some projects have a higher return on investment than others – like finishing your basement or putting in hardwood floors.
4. Paying for Education
Tuition bills have a habit of arriving faster than you can pay them. A cash-out refinance can help you manage this big line item in your budget.
If you're paying off student loans, leveraging your home equity to pay them could save you money on interest in the long run. Both student loan interest and mortgage interest are tax-deductible, but the maximum for student loans is $2,500, while for mortgage interest, interest on the first $750,000 may be deductible. So turning a student loan into a refinanced mortgage could save you hundreds.
5. Invest in real estate
If you can afford the new monthly payment, cashing out to invest some of your wealth may be a good idea. It's always a good idea to diversify your portfolio, and right now a large part of your wealth could be tied up in your home. Using your home equity to purchase a rental property that is well maintained, for example, can diversify your wealth while providing a secure stream of income. The profits from that first property can help you build wealth enabling you to buy another… and another… the humble beginnings of a real estate empire!
6. Start a business
It can be challenging to secure a business loan as a startup with no proof of concept and no income. That's why, statistically, 64.4% of entrepreneurs rely on personal savings to start their businesses. Those who actually are able to secure a high-interest business loan, and the few who max out their credit cards to launch their business, can wind up saddled with high-interest payments for years.
If you own your own home and have a fair bit of equity in it, a cash-out refi may be the best way to raise money for your new venture.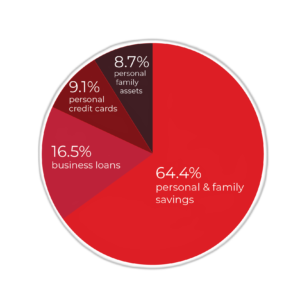 Be sure to run the numbers to make sure the amount you can take out will be enough to fund the first phase of your new business. They say "undercapitalization" is one of the primary reasons great ideas don't make it to profitable businesses. You'll want to know how much you need to keep the lights on until the business takes off.
Bottom Line
A cash-out refinance is a smart way to convert your home equity into cash and can make a lot more sense than a home equity loan, especially when you use the funds to improve your quality of life and/or financial situation. You'll be committing to a new, higher monthly mortgage payment, so make sure you can afford that new loan long-term. But if you're using the re-fi to pay off consumer debt, chances are you'll be saving money from day one.

Talk to an Ark Advisor to learn how you can use the equity under your feet to reach your financial goals.
---
Sign up for blog updates.