What to Look for When Buying a New Home in New Jersey
A new home is like a blank canvas—everything is new, waiting for you, the first buyer, to add your personal touch. To become a successful first-time homebuyer in New Jersey, especially when purchasing new construction, you must do some basic research so there are no big surprises later. Consider the following guidelines before jumping in.
Look Inside Yourself
New construction in New Jersey comes in three varieties:
A "spec" home that's already built,
A subdivision of houses in some phase of construction, and finally
A totally custom-built house.
You need to ask yourself, how customized and unique do you wish your house to be? Keep in mind that in subdivisions, while you can choose from various materials and finishes, there's usually a limit to how much you can change, and floor plans are typically not customizable. Some builders will allow you to purchase your preferred materials separately if they don't supply them, but they may or may not credit you any money back to cover those costs.
Other issues for a first-time homebuyer in New Jersey to consider: Subdivisions are not usually built in the center of town. Will the commute become an issue? The properties might be built closer together than houses outside developments. Will you mind having less privacy? And can you tolerate a lack of landscaping? It might take years for the area to look "lived in" with mature trees and plants.
Who's on Your Team?
In subdivisions and developments, the on-site real estate agent works for the seller, not you. Their job is to maximize the builder's profit. Make sure you hire a Buyer's Agent to represent you and protect your interests. Buyer's Agents are real estate agents who work solely for the buyer. They are normally compensated by the builder or Selling Agent.
Make sure to have your Buyer's Agent refer you to the builder before your initial visit (otherwise they might not get paid!) and even if the builder discourages it, have them at every walk-through and copy them in on all correspondence. They can also advise you as to the most appropriate purchase price. Be forewarned: some builders don't like to drop their prices but may consider paying for closing costs or throwing in upgrades. Your agent may have knowledge as to a particular builder's negotiating style.
Aside from your Buyer's Agent, others on your team should include a good lawyer, since builder's contracts and addendums can be confusing. Also hire a competent inspector who should accompany you on your final pre-closing visit, so you can write up a "punch list" of requested repairs of anything not completed as per the sales contract.
Most vital: working with a good New Jersey home loan officer. Some builders will insist that you use their lenders (but often you can override this.) Sometimes their lender of choice may offer some monetary incentives. Be sure to ask your preferred lender about what they can offer—they might be able to structure a deal that, when taking into account rate, down payment, length of term and tax deductibility, can save you tens of thousands of dollars in the long run over the builder's lender of choice.
Do Your Location Homework
Research the neighborhood before purchasing. Personally visit the schools, the houses of worship, the shops and the neighborhood at different times of day. Search social media for comments about the builder's other projects. Were the owners happy with the construction? With the amenities? Also check out the zoning laws so you know what might be built in the neighborhood in the future.
What Exactly are You Purchasing?
Don't settle on a layout based on virtual reality. Ask to visit a model of the home, even if it's part of a different development or located in a different town. Understand that the size or dimensions of the lot you choose may require the final design of your home to vary from the model.
Also understand up front what exactly is included in the standard purchase price because model homes are typically packed with upgrades. What you see may not be what you get! Be sure you can afford the colors, finishes and fabrics of your choice. Ask if the building lot and landscaping are included in the sales price or will require additional payment. When your budget won't include everything you desire, choose square footage and location over upgrades. You can always upgrade later but you can't affordably increase the size of the home or move it to a different location. Also, never over-improve. Owning the most expensive home in a subdivision may impede resale later.
Other things for a first-time homebuyer in New Jersey to consider: Check the builder's reputation before purchasing. Ask about the projected date of completion of the home and then add on a few months because construction can often run overtime. Be sure your contract includes a cost escalation clause to protect you against rising prices.
Get everything in writing, including a home warranty, and know in advance what the warranty covers. Check out the rules of the Homeowner Association (HOA) and the monthly required fees to maintain the upkeep of the development. Finally, ask the builder to leave any leftover paint, tiles and carpet scraps behind. They will help you maintain the property as well as assist you when shopping for furniture and decorations.
Last but not least, you may need a home loan to help you acquire your new property. With Ark Mortgage, the home loan process is fast and easy. Contact our Mortgage Advisors below to get started.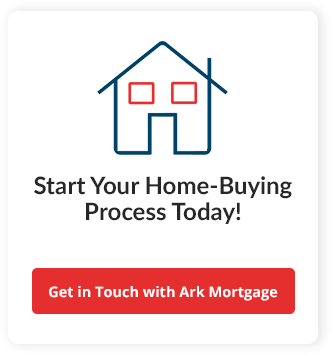 The Ark Scrolls in your inbox
Informing And Enhancing Your Purchase And Refinance Decisions
Categories